PeproGrow hMSC (Mesenchymal Stem Cell) Medium

PeproGrow hMSC (Mesenchymal Stem Cell) Medium is a xeno-free, human serum containing, phenol red-free complete media formulation originally designed for the in vitro expansion of adipose-derived human mesenchymal stem cells (ADMSCs) while maintaining full multipotency. Since its design, this media formulation has been shown to be suitable for the sustained growth of adipose tissue-derived, bone marrow-derived, umbilical cord-derived, placental-derived, and urine-derived MSCs in both adherent and suspension culture. For optimal results, culturing should be conducted on a surface coated with PeproTech's Animal-Free Human Vitronectin Matrix as a surface-coating reagent; however, other suitable extracellular matrix (ECM) proteins, such as fibronectin or vitronectin, can be used.
For more information about Peprotech's Animal-Free Human Vitronectin Matrix, please visit: https://www.peprotech.com/human-vitronectin-matrix-and-buffer-kit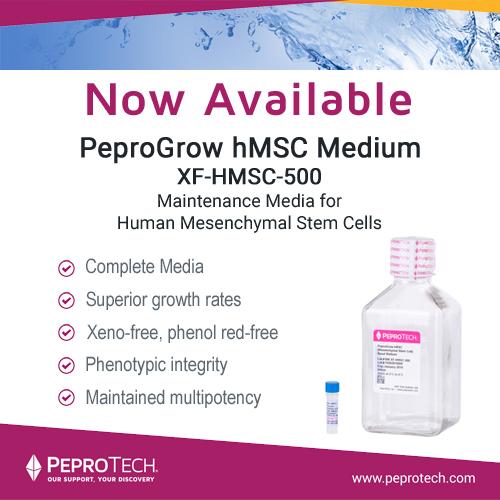 Composition
PeproGrow hMSC Medium was designed and developed in collaboration with American CryoStem Corporation, and is supplied as a 500mL bottle of PeproGrow hMSC Basal Medium containing a human serum component, and a separate, lyophilized vial of animal-free PeproGrow hMSC Growth Factor Supplement. The addition of the separate, lyophilized growth factor supplement to the basal medium results in a complete medium containing all growth factors and supplements necessary for optimal expansion of human mesenchymal stem cells in culture. Additional companion products, including PeproTech's Animal-Free Vitronectin Matrix and Buffer Kit, are available separately.
Press Release
Please view the joint press release by American Cryostem and Peprotech here: https://www.accesswire.com/446411/American-Cryostem-Enters-Into-Agreement-To-License-ACSelerate-Max-Cell-Culture-Medium-To-PeproTech 



About PeproTech: Our Story