SAMPLE INTEGRITY SOLUTION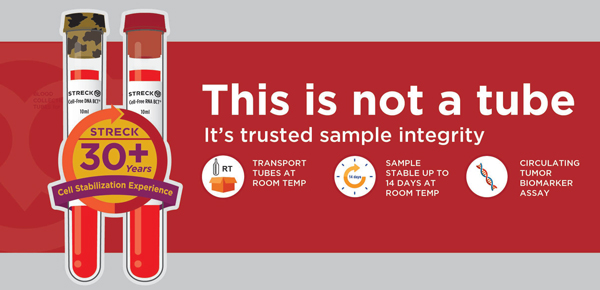 Principle
Cell-Free DNA BCT® is a blood collection tube with a preservative stabilizing nucleated blood cells. This unique stabilization prevents the release of genomic DNA, allowing isolation of high-quality cell-free DNA.
Multiple Applications
Recover high-quality cell-free DNA suitable for a wide range of downstream applications commonly used in clinical research studies, drug discovery and diagnostic assay development.
Convenient Sample Collection, Transport & Storage
Cell-free DNA: Up to 14 days at 6 to 37 degree.
Circulating Tumor Cells (CTCs): Up to 7 days at Room Temperature
About Streck
Streck was established in 1971 by Dr. Wayne Ryan.
Dr. Ryan was instrumental in the development of the first haematology quality control products for the clinical diagnostic market. Streck has since gained worldwide recognition as an innovator of whole blood control products.
About Genomax
Genomax Technologies is now the exclusive distributor for Streck's Hematology and Stabilization Portolio in Malaysia, Singapore and Thailand.
Please contact Genomax Technologies at info@genomax.com.my or via WhatsApp at +60122380658
Download our Streck Cell Stabilization Product List here (PDF, 537kb).
Download our Streck Product Portfolio here (PDF, 49.7kb).
The first automated body fluid cell count control for Abbott®, Beckman Coulter®, Siemens Healthcare Diagnostics, and Sysmex® hematology instruments.
STATS compiles data in personalized, easy-to-read reports to help labs detect changes in their systems before these significantly impact patient results.