Don't let sample volume limit your analytical aspirations. Detect DNA, RNA, and protein changes in a single assay to use less precious material and gather more informative data.
Solid Tumor Profiling 
Monitor 104 actionable and high-frequency SNV and INDELS in FFPE, fresh/frozen tissues, and cells. When combined with our nCounter Vantage 3D RNA:Protein Assays, you can analyze and validate DNA mutations and gene and protein expression changes in your precious samples to uncover the novel solid tumor biology.
Specificity that Brings Insights into Focus
The Vantage 3D DNA SNV Solid Tumor Panel shows sensitive SNV detection down to 5% mutant DNA for high confidence detection in low frequency samples.

More data from your precious samples: Simultaneous analysis of RNA and protein enables you to see more from a single sample using as few as 20,000 cells (50,000 cells for PBMCs and primary cells).

Simple integrated workflow and holistic data output: Integrated measurements simplify your research and eliminate the challenge of comparing data from different technologies with different outputs.

Compatible with your samples: Our protocols enable you to run both PBMCs and other primary cells without compromising reproducibility.

Easy data management: No bioinformatician required, our Advanced Analysis software includes statistical tests and produces publication-quality figures.

Flexible design: Customize through the addition of up to 3 proteins of your choice with Vantage 3D™ Protein Barcoding Service.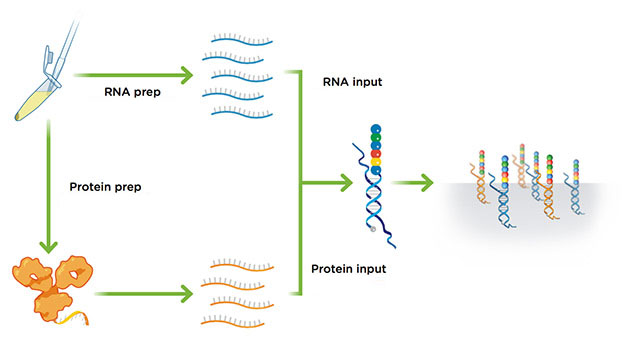 Complementary Advanced Data Analysis 
Don't waste time waiting for a bioinformatics specialist to review your data. Get results in a simple CSV file that contains direct counts for each target. Import it into your favorite application or use the included nSolver™ Analysis Software for convenient and advanced data analysis.
nSolver™ Analysis Software enables easy storage, custom QC, and custom normalization of nCounter data. Generate highly-customized exports, basic statistical outputs, and publication-quality figures quickly and easily with the included tools. Specialized Advanced Analysis Modules for PanCancer panels, including custom and panels provides deeper data insights based on robust statistics. Examine experimental trends, identify pathway-specific responses, and profile immune cell populations in sharable HTML reports.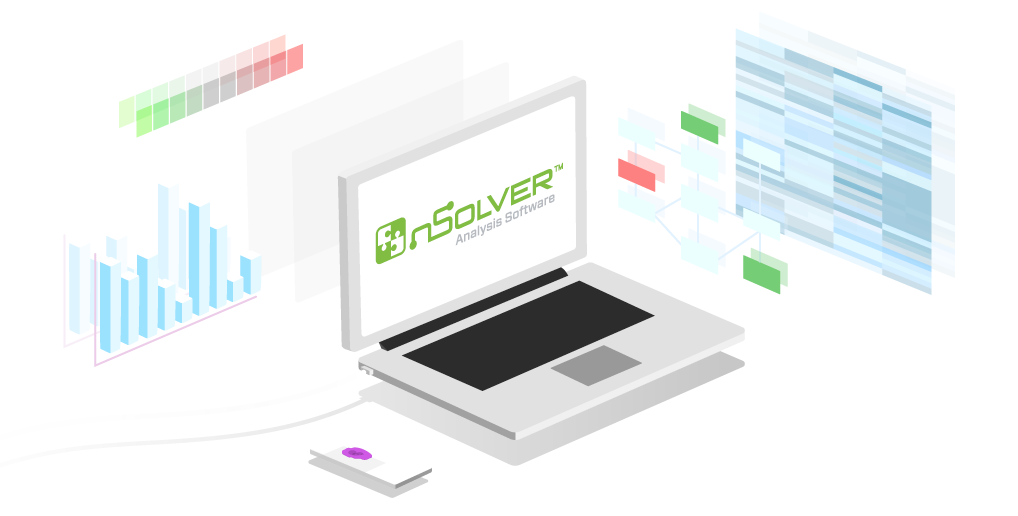 Investigate the Human Cancer Immunity Cycle
770 gene expression transcripts implicated in the Cancer Immunity Cycle:

109 genes to cell surface markers for 24 different immune cell types and populations

30 genes for commonly studied CT Antigens >500 genes for measuring immune response

40 reference genes (including 30 overlapping controls with the PanCancer Pathways Panel)
Up to 30 proteins

3 antigen presentation targets

11 priming & activation targets

1 trafficking and infiltration target

5 cancer cell recognition and killing targets
Immune Cell Signaling; Intracellular Proteins

11 cytokine and chemoattractant targets

12 transcription factor targets

4 regulatory and effector protein targets

Customization options include combining protein panels with most gene expression reagents and/or addition of up to 3 proteins to any RNA:Protein experiment with the nCounter Vantage 3D Protein Barcoding Service.
For a full list of genes and proteins, please download our white paper.