RayBio® G-Series Human Apoptosis Antibody Array 1 Kit. Detects 43 Human Apoptotic Factors. Suitable for all liquid sample types but intended for use with cell and tissue lysates.
RayBio® G-Series Human Apoptosis Antibody Array
Antibody arrays allow researchers to conduct rapid, accurate expression profiling of hundreds of cytokines, chemokines, growth factors, proteases, soluble receptors and other proteins from any biological fluid.
With the help of Antibody Arrays, researchers are also gaining a better understanding of cancer cells, mutations and antibodies. The RayBio® Human Apoptosis Antibody Array can detect 43 different apoptotic proteins (including p53) with picogram-per-milliliter (pg/ml) sensitivity. Researchers studying the deregulation of apoptosis in diseases such as coronary artery disease, HIV infection and cancer can use the array to increase detection of apopotic proteins within their samples.
The kit consists of the arrays and all reagents necessary for detecting these proteins in cell and tissue lysates.
The RayBio® Human Apoptosis Antibody Array utilizes a fluorescent signal readout, allowing a wider dynamic detection range than can be achieved by chemiluminescence. 
Do not have a fluorescent microarray scanner in your lab? No worries! Genomax provides Scan and Report service for customers working with the glass slide format (G-series) antibody array. The signal intensities obtained from microarray laser scanner can simply be imported into our Data Analysis Tool.

Please contact Genomax for the walk-through of the technology.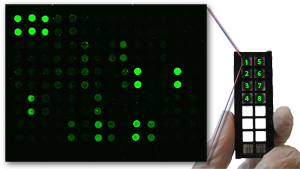 Array Map
Human Apoptosis Array G1 (43 apoptotic proteins)

bad

bax

bcl-2

bcl-w

BID

BIM

Caspase-3

Caspase-8

CD40
(TNFRSF5)

CD40 Ligand
(TNFSF5)

cIAP-2

Cytochrome C

DR6
(TNFRSF21)

Fas
(TNFRSF6/Apo-1)

Fas Ligand
(TNFSF6)

HSP27

HSP60

HSP70

HTRA2

IGF-1

IGF-2

IGFBP-1

IGFBP-2

IGFBP-3

IGFBP-4

IGFBP-5

IGFBP-6

IGF-1 R

livin

p21

p27

p53

SMAC

Survivin
(BIRC5)

TNF RI
(TNFRSF1A)

TNF RII
(TNFRSF1B)

TNF alpha

TNF beta
(TNFSF1B)

TRAIL R1
(TNFRSF10A/DR4)

TRAIL R2
(TNFRSF10B/DR5)

TRAIL R3
(TNFRSF10C)

TRAIL R4
(TNFRSF10D)

XIAP
Features
High sensitivity and specificity
Low sample volume (10-100 µl per array)
Large dynamic range of detection
Compatible with most sample types
Test 4 or 8 samples on each slide
Suitable for high-throughput assays
How It Works
G-Series Antibody Arrays utilize the sandwich-ELISA design principle. In this assay, capture antibodies are printed in multiple identical arrays on a standard-sized histology slide. After a blocking step, samples are incubated with the arrays. Nonspecific proteins are then washed off, and the arrays are incubated with a cocktail of biotinylated detection antibodies, followed by a streptavidin-conjugated fluor. Signals are visualized using a fluorescence laser scanner.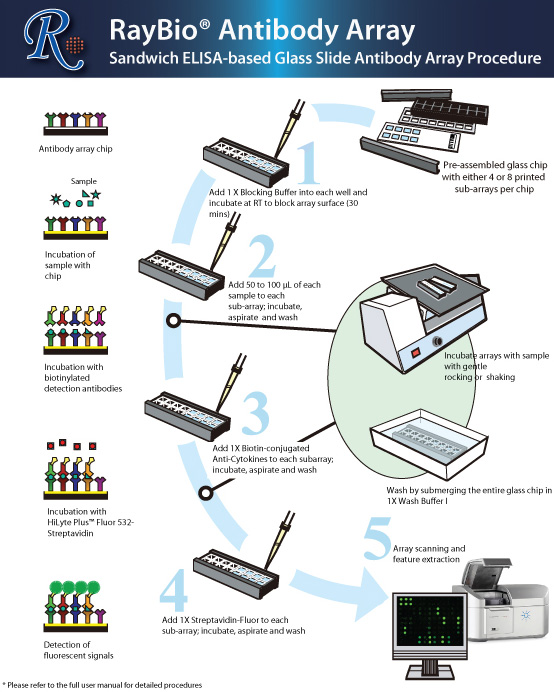 Publications cited RayBio Apoptosis Antibody Arrays