RayBio® G-Series Human Angiogenesis Antibody Array 1000 Kit. A combination of Human Angiogenesis Antibody Array G1 & G2. Detects 43 Human Angiogenic Factors. Suitable for all liquid sample types.
RayBio® G-Series Human Angiogenesis Antibody Array 1000 Kit
Antibody arrays allow researchers to conduct rapid, accurate expression profiling of hundreds of cytokines, chemokines, growth factors, proteases, soluble receptors and other proteins from any biological fluid.
RayBio® G-Series Human Angiogenesis Antibody Array 1000 Kit detects 43 Human Angiogenic Factors.
The RayBio® Human Apoptosis Antibody Array utilizes a fluorescent signal readout, allowing a wider dynamic detection range than can be achieved by chemiluminescence. 
Do not have a fluorescent microarray scanner in your lab? No worries! Genomax provides Scan and Report service for customers working with the glass slide format (G-series) antibody array. The signal intensities obtained from microarray laser scanner can simply be imported into our Data Analysis Tool.

Please contact Genomax for the walk-through of the technology.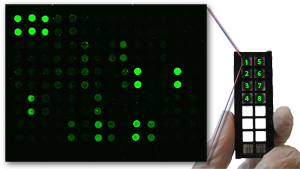 Array Map
Human Angiogensis Array G1000 (43 angiogenic factors)

Angiogenin

Angiopoietin-1

Angiopoietin-2

Angiostatin

bFGF

EGF

ENA-78
(CXCL5)

Endostatin

GCSF

GM-CSF

GRO alpha/beta/gamma

I-309
(TCA-3/CCL1)

IFN-gamma

IGF-1

IL-10

IL-1 alpha
(IL-1 F1)

IL-1 beta
(IL-1 F2)

IL-2

IL-4

IL-6

IL-8
(CXCL8)

I-TAC
(CXCL11)

Leptin

MCP-1
(CCL2)

MCP-3
(MARC/CCL7)

MCP-4
(CCL13)

MMP-1

MMP-9

PDGF-BB

PECAM-1
(CD31)

PLGF

RANTES
(CCL5)

TGF beta 1

Thrombopoietin
(TPO)

Tie-2

TIMP-1

TIMP-2

TNF alpha

uPAR

VEGF-A

VEGFR2

VEGFR3

VEGF-D
AFeatures
High sensitivity and specificity
Low sample volume (10-100 µl per array)
Large dynamic range of detection
Compatible with most sample types
Test 4 or 8 samples on each slide
Suitable for high-throughput assays
How It Works
G-Series Antibody Arrays utilize the sandwich-ELISA design principle. In this assay, capture antibodies are printed in multiple identical arrays on a standard-sized histology slide. After a blocking step, samples are incubated with the arrays. Nonspecific proteins are then washed off, and the arrays are incubated with a cocktail of biotinylated detection antibodies, followed by a streptavidin-conjugated fluor. Signals are visualized using a fluorescence laser scanner. Genomax provides Scan & Report service for customers who do not have laser scanner.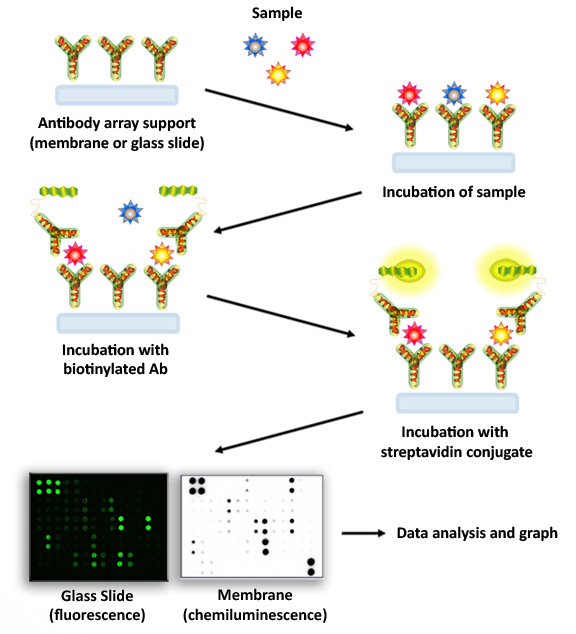 Publications cited RayBio Angiogenesis Array
Shomer E., Katzenell S., Zipori Y., et al. Microvesicles of pregnant women receiving low molecular weight heparin improve trophoblast function. Thromb Res. 2016 Jan;137:141-7. doi: 10.1016/j.thromres.2015.11.026. Epub 2015 Nov 23.


Barcena C., Stefanociv M., Tutusaus A., et al. Angiogenin secretion from hepatoma cells activates hepatic stellate cells to amplify a self-sustained cycle promoting liver cancer. Sci Rep. 2015 Jan 21;5:7916. doi: 10.1038/srep07916.
Species: Human
Sample Type: Conditioned Media


Rubio-Azpeitia E., Sanchez P., Delgado D. Three-Dimensional Platelet-Rich Plasma Hydrogel Model to Study Early Tendon Healing. Cells Tissues Organs. 2015;200(6):394-404. doi: 10.1159/000441053.
Species: Human
Sample Type: Conditioned Media


Etulain J., Negrotto S., Tribulatti M., Croci D., Carabelli J., et al. Control of Angiogenesis by Galectins Involves the Release of Platelet-Derived Proangiogenic Factors. PLOS One, Published: April 30, 2014 DOI: 10.1371/journal.pone.0096402 [Epub Ahead of Print]
Species: Human
Sample Type: Conditioned Media